Studs
Nordic Mini Huskies' champion studs showcase the breed standard for Alaskan Klee Kai.  The grand champion stud, Jordan leads the way for many more generations of winners, and continues to father beautiful puppies with gentle loving personalities.  In fact all our fathers showcase the beauty, intelligence and loyalty that the Alaskan Klee Kai are known for.
I am always excited to meet all the many diverse puppies they father. Together with our leading ladies, they will parent new generations of winners in the ring and lifelong companions at home.
For more information on studs or Alaskan Klee Kai puppies for adoption, tel:+19512586850 give me a call today.
DOB 1/29/2009 Gray and White, Blue eyed, Red factored, Factor VII clear, standard male. Produces quality puppies that have extremely friendly and out going personalities. Standing at stud. He has passed his health testing for OFA Cardiac, Patella, and Thyroid, and CERF for eyes.
Please witness their beauty below.
---
PAX
Pax is a stunning boy with his thick coat and eye catching good looks. He complements that with one of the most outgoing friendly personalities. He is standard in size. Fully health tested.
---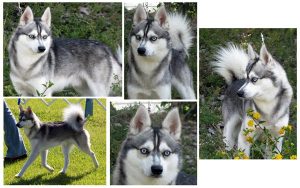 Grand Champion PR Kika's Jordan
Jordan's Pedigree
---
PR Nordics Adonis
DOB 10/5/15 – Black and white blue eyed toy. Factor VII clear. Standing at stud. Fully health tested.
Adonis is a loving playful boy who likes to stare deeply into your eyes. He passes this on to his babies.
He is currently being shown to his Grand Champion status.
---
PR BBCooks Apollo Nordic
DOB 7/1/14 – Red and White, Blue eyed, Small Standard, Factor VII clear. Standing at stud.
Apollo is a handsome devil with who sires outgoing puppies that love people.
---
Aries
Born 5/17. He is a very loving playful guy. He is a mini in size. He is fully health tested.
See Facebook here for all of my Nordic Klee Kai Puppies Photos