Nordic Mini Huskies Kennel
As the name implies, Alaskan Klee Kai look just like miniature huskies!  Through careful breeding, the special markings, shapes and eye color of the husky were passed down while their size was slowly reduced.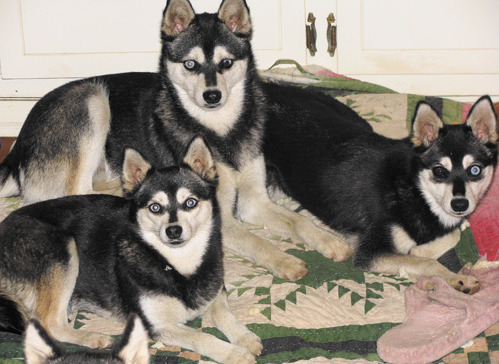 They are approximately a foot to a foot and a half high, and their small size combined with their thick coats makes them the perfect cuddle buddy.  As a breeder, shower and avid pet lover, I breed dogs that exhibit the best aspects of the breeds appearance and temperament, and care for each pup individually so it grows up healthy, beautiful, playful and loving.
All puppies are health-checked, micro-chipped and receive updated vet visits, so they are ready to come to your home. Learn more about this rare breed and contact me today to reserve your puppy!
I am a small breeder in California that fell in love with the Alaskan Klee Kia in 2007. I wanted to only breed the best so I found a kennel that offered some of the best dogs in our breed. After waiting a year I finally brought home my first Klee Kai - a black and white toy girl who I named Keleah.
Next came Jordan my Grand Champion.  My dogs are indoor/outdoor dogs so let me tell you it is a full house. This keeps my Kennel small but it does not take a lot of dogs to produce a champion - just good breeding technique.
Kennel Health
I take my dogs out usually every day to feed my horses (off leash) and they get to run and play for 15 to 30 minutes a day.  I have started to run every day about 5 miles and they do quite well at this too. They do not tend to bark unless someone is at my house but they do talk some when I get home to tell me of their day.  They get along great with my niece's and nephews along with my 3 cats.
Testimonials
"Just wanted to tell you how much we are loving our little boy. He has been amazing and has already completely potty trained!! "
"Unbelievable!! He is both mischievous and loving, a perfect match for us!"
"We want to thank you so much! We have shown him to our family and friends, my brother and two friends want to know when you are going to be breeding again. I am happy to pass on your info and Facebook."
"You have bread amazing dogs and we couldn't be happier. My mom is a photographer and she took close to a thousand pictures of our new boy, if you would like I can send you the best. Thank you from the bottom of our hearts."